I Invite People to My Housewarming Before I Even Move—Here's Why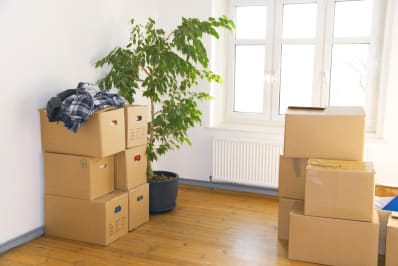 (Image credit: linerpics/Shutterstock)
Studies say moving ranks right behind divorce and death on the stress scale. So with my moving day right around the corner (or, let's be real, sneaking up on me), it's no wonder I was feeling a mirage of emotions: stress, excitement, joy, confusion, to name a few. Mostly, the thought of unpacking filled me with overwhelming dread.
But I had a realization: Why did moving have to be scary? Why couldn't it be a fun, exciting, and—most importantly—controlled experience?
In order to combat the negative feelings I was having, I did something slightly drastic to turn the dread into joy: I scheduled a housewarming party approximately 30 days after my move-in date. I set strict rules: no small get-togethers, no champagne toast (except with my boyfriend a.k.a. roommate)—until our job was accomplished.
I'm happy to say it worked: By having a deadline on the calendar to look forward to, I was able to stay positive and reward myself properly when all was said and done.
Here's how I did it:
Weekend one: Moving time
When I was moving out of my old place and into my new one, I really tried to pack right the first time—that meant not throwing old halter tops and my boyfriend's basketball uniforms in a bag and schlepping them to the next place to deal with.
So while packing, if I was questioning whether I should keep something, I asked myself if I would realistically use it in the next couple of months. If I couldn't see myself using it, I would either "ditch" or "donate" it. Since I decluttered as I packed, I lightened my load—literally—and made unpacking a much easier experience.
When moving day came around, it was still stressful—but not as stressful as I imagined. Once we got everything into the house, I unpacked my bathrooms and closets first—I think seeing all my everyday stuff in my new space made it feel more homey and less empty.
When I got overwhelmed, I switched projects to stay equally productive. I sent out invitations to my guests with my new address, start time, and any requests for guests (such as BYOB, appetizers, etc). By making the party intertwined with my moving process and getting the date on my friends' calendars early, it made my self-imposed deadline feel more real.
Weekend two: The pieces start to come together
After I lived in my house for a week, I set an intention for that weekend to really refine the optimal layout of our pad. Having spent time in the space, I realized our couch was creating a problem. I kept bumping into it, meaning it was either a) poorly placed or b) too big for the room. I put the old one up for sale immediately and started searching for a new one that would fit the space.
Knowing that we were having guests in a couple of weeks helped me not get too overwhelmed by decorating. Because we needed space for the occasion, it was easy to hold off on purchasing and delivering some pieces of furniture until after the party.
I also used this weekend to do a big grocery trip and stock up my pantry. Since we had just moved in, our freezer was relatively empty, so I bought some frozen appetizers for the party. I stayed away from filling the fridge, too, because I needed to save some room for the party in a couple of weeks.
During this weekend, I unpacked more of our boxes. Knowing it would be a slow process helped me stay on track and not get too carried away.
Weekend three: Shop for the finishing touches
Now that the basics were done, it was time to get my decor on. I decided to invest in a few really nice art pieces, and then go to lower-cost shops for seasonal or everyday accents—and some decorations for the party. I was able to really focus on making my space beautiful by separating furniture and accent shopping.
This weekend I also sent reminder texts to my friends and family about the party and fielded any questions they had.
Weekend four: Time to party
By the fourth weekend, I was unpacked and settled in enough to feel good about guests coming over. This isn't to say that the house was picture perfect—it definitely wasn't—but I considered my deadline met and I wasn't rushing to hide boxes.
Friday night, I did a quick grocery store run to get drinks and snacks, and then did a little primping around the house. The main priority for that night was to go to bed early so I'd be refreshed in the morning.
After I woke up the next day, I just spot-cleaned the house and ran a few errands in case I forgot anything (paper plates!)
Once I got home, I got myself ready and lit a few candles around the house. Knowing that I wouldn't have that much time to cook, I supplied minimal snacks and asked my guests to bring food, too. Once everything was set up, I sat, took a few deep breaths, and waited for guests to arrive! It felt so good to not feel like I was racing against the clock.
On Sunday, I cleaned up, wrote a couple of thank you notes, but largely enjoyed the freedom of being moved in! I was so happy to share my home with others and felt like I truly earned my party—and was relaxed enough that I could actually enjoy it.