Tour DesignAddictMom's Colorful, Personal Home
Name: Stacey Blake and family
Location: Fayetteville, North Carolina
Size: 3,000 square feet
Years lived in: 8 years
There's color, and then there's color. Stacey Blake is a master of the latter. She mixes bold and bright oranges, greens, pinks, and more to ecstatic perfection in her Fayetteville, North Carolina, dream home. And we mean dream home: Stacey, who shares her colorful progress online as DesignAddictMom, designed the space herself. The only thing that was keeping her from that dream? Her old house.
With her husband serving in the Army Special Forces at Fort Bragg, Stacey knew the neighboring growing city of Fayetteville was the right place for her family. But, the then family of three had outgrown their house. Yes, she had put a lot of work into their current home, but the market was ripe for selling and they "took the plunge to sell," Stacey said. (They'd later become a family of five, so it's a good thing they did!)
Stacey and her husband considered selling the home themselves but quickly realized it was a task best left to a pro. They began working with a Realtor®, a member of the National Association of Realtors®, who had helped friends sell their home quickly and was highly knowledgeable about their small rural market.
With their old house sold, the family was ready to start fresh—and Stacey was ready to flex her creative muscles. She just didn't know where. The family had found a plot of land they intended to build on, but Stacey realized it wasn't big enough for the house that would fit her growing family. That's where another Realtor® came in, one who knew how Fayetteville was being developed. She knew exactly where a young family would find the space they needed and the community they wanted to share it with. Stacey got the perfect plot and was ready for the fun part.
"I was very involved," Stacey says of building their new house. She put her colorful signature style all over the design, from the gentle blue exterior and the rich green living room to the orange hidden bookshelves and cheerful wallpaper in the nursery dormer. Even the firewood has pops of pastel!
The couple used a traditional builder even though they don't have a traditional style. (Just wait 'til you see the closet office.) "I think I scared him with my choice of color," Stacey says. "But now he uses it on his new houses."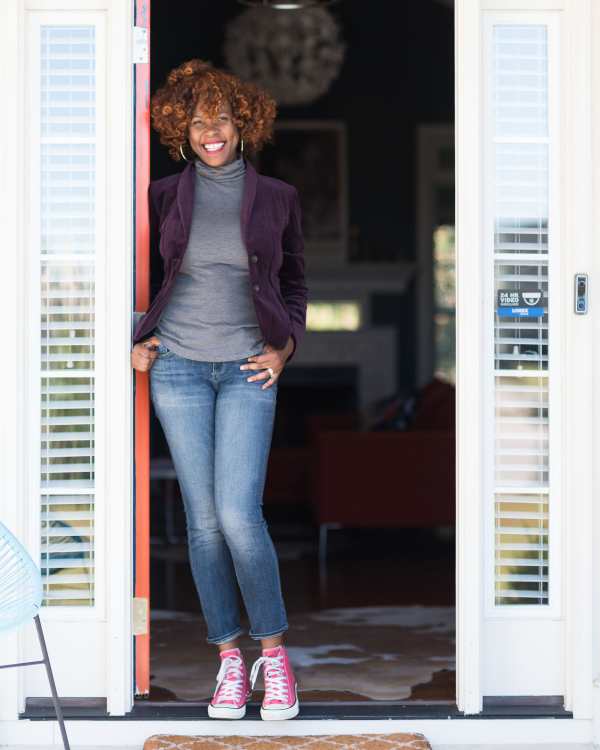 (Image credit: Brian Mullins)
Apartment Therapy Survey:
My Home's Style: Colorful Eclectic

Inspiration: I am always inspired by nature and different cultures throughout my travels.
Favorite Element: I love the open floor plan.
What Friends Say: They love all the colors and plants.
Proudest DIY: My closet turned office
Biggest Indulgence: All the furniture in the living room
Best Advice: Your home should be an expression of YOU
Dream Sources: A number of our furniture pieces were bought when we were stationed in Vicenza, Italy. However, we have some pieces from Design Within Reach, Room and Board, Charles Progers, Ikea, Calligaris, and thrift stores.
Resources:
LIVING ROOM 1:
Furniture – Tomasella
Picasso Art – Vintage from Hipsteria Modern
Light Fixture – IKEA
Small Mid-Century Chair – Thrifted
Masks – From Travels & Handmade in Jamaica
Paint — Benjamin Moore, Tarrytown Green
FOYER:
Paint – Benjamine Moore, Peony
LIVING ROOM 2:
Paint – Benjamin Moore, Wedgewood Grey
Pink Chair – Thrifted and then reupholstered
Sideboard – Room and Board
Mirror Over Mantel – ZGallerie
The rest of the furniture was bought in Italy.
SECRET OFFICE:
Wallpaper – Tanzania in Pink from Thibaut
Chair – West Elm
PLAYROOM:
Baby's PlayPen – Amazon
Bookcase – Thrifted then Painted Green
GUEST BEDROOM:
Furniture – Bought in Italy
Paint Behind Bed – Benjamin Moore, Soot
MASTER BEDROOM:
Paint Behind Bed – Benjamin Moore, Ming Jade
Rest of the Walls – Benjamin Moore, Egyptian Green
Bed – Charles Progers
Bedside Tables – CB2
Rug – Nourison Lux Shag Rug
Blue Chair – Vintage Adrian Pearsall – Hipsteria Modern
Only Love Pennant – Rayo & Honey
BOYS' BEDROOM:
Mid-Century Dresser – Thrifted
Beds – IKEA
Map Mural – York Wall Covering
NURSERY:
Wallpaper – Arty from Pierre Frey
Crib - Babyletto Hudson
Thanks, Stacey!
Whether you're still searching or ready to renovate, a Realtor®—a member of the National Association of Realtors®—can help make your dream home a reality. Visit realtor.com/getrealtor to find your next home.
This post is sponsored by the National Association of Realtors® and was created by Apartment Therapy's Creative Studio. Realtors® are members of the National Association of Realtors®.
Thank you for supporting the brands that make Apartment Therapy possible.