Before and After: A Dead, Empty Entryway Gets a Very Useful IKEA Upgrade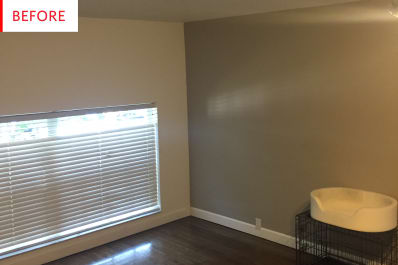 (Image credit: Anfisa Reytarova)
This blank empty space was the first thing this family saw when they walked in their home's entryway, and not only was it underperforming in the looks department, it also just wasn't as useful as it could be. Over the course of just one week, this space was transformed from a dead zone into a new household favorite.
Before we get to the big reveal, here's a look at the corner again, from head to toe. Not much to see here, other than some beige walls and a dog crate. Right inside the front door, however, is one of those spots where clutter piles up quickly and, without a good organizational system, can quickly get out of control with mountains of shoes, dog leashes, and discarded bags and gym gear.
(Image credit: Anfisa Reytarova)
Knowing this, Anfisa, the owner of this space, set out to create something infinitely more useful. She used IKEA as the base for a hacked entryway set-up that has both seating, closed storage, open shelving, and a place for decor. Every element of her new system looks built-in and like it was born there.
(Image credit: Anfisa Reytarova)
Here's what it took for Anfisa to pull it off:
I was able to complete it in a week. I only had help with demolition (opening up the wall) and framing out the shelves. The rest I did my self, using online tutorials. I built the benches out of IKEA kitchen cabinets, which took about two hours at the store, followed by two hours of assembly. I built a small frame using a finished Home Depot trim to elevate the bench, so the doors could actually open. Then, all I had to do is place the cabinets on the frame and make cushions.
Anfisa reports that it's now a favorite hang out place for her kids and dogs, and adds a cozy and multi-purpose seating area with a splash of welcome color.
Thank you Anfisa and nice job!