Prince Harry Bought Meghan Markle This Art —And Here's Where You Can Get it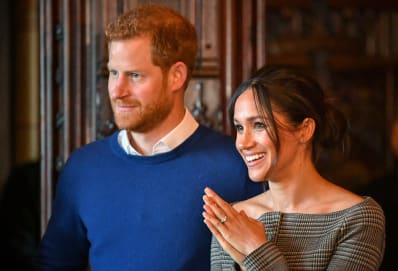 (Image credit: WPA Pool/Pool/Getty Images)
While you may never seen the inside of Nottingham Cottage, now you can furnish your own home with the same art as Prince Harry and Meghan Markle… if you move fast.
Back in 2016 before the couple went public, Prince Harry purchased a piece of art titled titled "Everybody Needs Somebody To Love," saying it was "for a special person." Created by a British artist who goes by the pseudonym of Van Donna (a portmanteau of Van Gogh and Madonna), the acrylic, stencil, and spray painting features a girl and boy walking while holding hands on one side, with the painting's title written out in cursive on the other.
Pencil signed and number prints of the first painting are now available for purchase, but they're disappearing quick since there's only 199 of them. The print is 1/4 size of the original, but still embraces the sweet innocence of Van Donna's work. The single version retails for $262, which isn't all that much when you consider that the full red version sold for almost $4,000 at Christie's.
Harry purchased the piece at the Walton Fine Arts, a contemporary art gallery in London. According to PEOPLE, the original version is considered to be the most important produced by Van Donna and hangs in both the Freud museum in England and the Faberge Museum in St. Petersburg, Russia.