Prince Harry and Meghan Markle Are Moving Out of Kensington Palace Next Year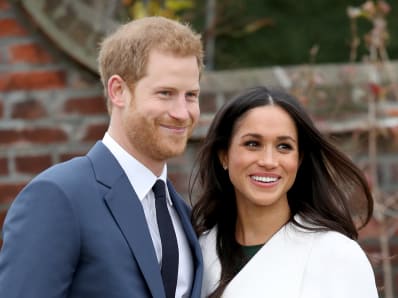 (Image credit: Chris Jackson/Getty Images)
All good things must come to an end. Prince Harry and his wife Meghan Markle are set to move away from Harry's big brother, Prince William. The Duke and Duchess of Sussex are set to move out of Kensington Palace in anticipation of welcoming their first child together. So our beloved foursome moments between William, Kate, Harry, and Meghan might be a bit more limited.
Most people do want their own space when starting their own family, which Prince Harry and Meghan have been busy doing since their May 2018 wedding. Everyone was over the moon to find out in October that the couple would be welcoming their first child together in spring 2019. Now, it looks like they're ready to create the perfect home to welcome that baby into.
It was first reported by The Sun that the Duke and Duchess of Sussex would be moving away from the Duke and Duchess of Cambridge. Harry and Meghan will move into Windsor Castle's Frogmore Cottage, which is close to a very special place for the couple. That is the area where they took their engagement photos and their wedding evening party was held close by. Windsor isn't too far away from home either, it is just about 30 miles west of London.
Frogmore Cottage will get a bit of work done before Harry and Meghan move in next year. It currently is split up into five apartments to home palace staff but will be turned into a 10-bedroom home. It is reported that it will have a gym and a yoga studio, as Meghan is known to love the fitness practice. Most important for the couple, their new home will also feature a nursery for their little bundle of joy, who is set to make their royal debut sometime in April 2019.
Since Harry and Meghan first got engaged, they've lived together at Kensington Palace's Nottingham Cottage. Meanwhile, Harry's older brother has lived at Kensington Palace with his family full-time since 2013 in Apartment 1A, shortly after the Duke and Duchess of Cambridge welcomed their son, Prince George. Their "apartment" has about 20 stately rooms with a beautiful view of Hyde Park. Though Harry and Meghan are moving out, they aren't leaving Kensington Palace behind entirely.
In a statement provided by their office to PEOPLE, "Windsor is a very special place for Their Royal Highnesses and they are grateful that their official residence will be on the estate. The Duke and Duchess's official office will continue to be based at Kensington Palace."
According to PEOPLE, the palace has made no comment on the rumors about growing tension between Prince William and Prince Harry. The Sun reported that an inside source said due to the tension, "Now Harry and Meghan don't want to live next to William and Kate and want to strike out on their own."
However, royals author Sally Bedell Smith told PEOPLE:
"The arrival of Meghan has changed the dynamic of the relationship in a fairly significant way. It is inevitable and practical because it gives Harry and Meghan some freedom to build up their own collection of interests and charities. Meghan has very strong views on what she is interested in and that may be what Harry shares, but not what William and Kate share."