Before and After: A 115-Year-Old House Is Updated on a Budget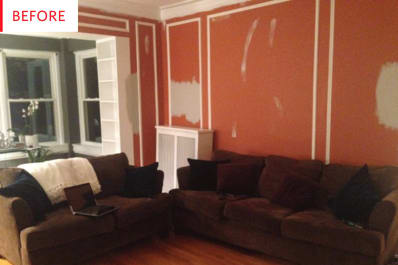 (Image credit: Oriane and Christopher Williams)
When Oriane and Chris Williams walked into this house they knew it was the house. But then Oriane made a list of everything they would want to update to make sure the 115-year-old house was really in the cards—and budget—for them. She budgeted everything from moving walls to door knobs on a spreadsheet and gave both a low- and high-end estimate of what she thought it would cost.
Chris, who works in finance, offered his biggest piece of advice: "Take what you think it's going to cost and multiply that by 25 percent. That's your high end. That's what you need to be prepared to spend." This smart, patient way of renovating made the whole home remodel possible for the cost-conscious couple. They both knew exactly what they were getting into.
Though the couple wanted to update the outdated aesthetics of the space, they were also looking for more functionality: a bigger, cleaner, brighter more modern home. But most of all they wanted to stay true to the home's original old world charm. The end result is an elegant and traditional, yet chic space with a soothing color palette and, of course, a lot of architectural charm. "A gut rehab would have been easier," Oriane said, "but when you love the original character of the home this much, sometimes it's worth it to try and save it."
(Image credit: Oriane and Christopher Williams)
Oriane and Chris put a lot of their own hours in the renovation in order to save money, even recruiting family for additional help. They painted and tiled themselves, replaced fixtures, and even created a faux "built-in" wall of bookshelves in the dining room out of IKEA pieces.
(Image credit: Oriane and Christopher Williams)
"We wanted to do as much of the work as we could ourselves, not only to save money, but to be proud of the finished result and say we had a hand in it," Oriane says. "Just as with the renovation process, take your time styling and decorating. Don't focus on accomplishing a single project (e.g. 'We need to redo the kitchen.')."
The new appliances ate up most of their budget, but they decided if they ever wanted to resell, those would be the selling points and would be worth the investment. We're looking at you, Wolf Range.
(Image credit: Oriane and Christopher Williams)
"And time—this is the biggest thing of all. It takes a lot of time," she says. "There was a lot of Thai food and a lot of washing dishes in the bathtub. And sometimes, that's just what it takes. When you don't have a contractor, you're having to find all the subcontractors while you're doing work all day. So, it took us five entire months."
BATHROOM RESOURCES:
Shower Tile — Carrara Marble on walls and floor, Tile Outlet
Flooring — Slate tile 12x24, Home Depot
Vanity and Sink — Home Depot
Toilet — Kohler
Faucet — Kohler
Medicine Cabinet — Pottery Barn
Towel rack — Pottery Barn
Sconce — Pottery Barn
(Image credit: Oriane and Christopher Williams)
KITCHEN RESOURCES:
Flooring — Slate tile 12x24, Home Depot
Shaker Cabinetry — Home Depot
Countertop — Calacatta White Quartz, Stone City Chicago
Backsplash — White subway tile 3x6 inch, Home Depot
Farmhouse Sink — IKEA
Dishwasher and Fridge — Samsung
Faucet — Kohler
Oven Range and Hood — Wolf
Wine fridge — Gift from Mom
Cabinet Hardware...can't recall but similar at Rejuvenation
(Image credit: Oriane and Christopher Williams)
"Start by thinking about the focus of the whole home; Where do you want comfort? What part of the house makes you most happy? Make those spaces vibrant, utilitarian, and the most welcoming," wrote Oriane.