Sharp Objects' Pristine Victorian Mansion Belies Its Spooky Secrets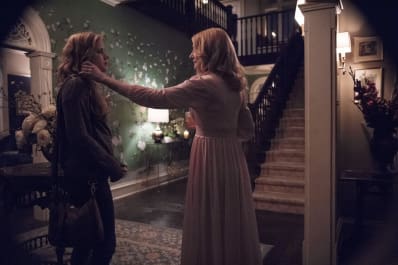 (Image credit: Anna Marie Fox/HBO)
If you dig shows and movies like Big Little Lies, Gone Girl, and even Buffy The Vampire Slayer, you need to be watching HBO's Sharp Objects. The eight-episode miniseries is based on Gillian Flynn's debut novel and is centered around Camille Preaker (Amy Adams), a St. Louis-based journalist who is sent back to her hometown in the southern part of the state to report on the year-old death of one young girl and the recent disappearance of a second. Once she's back in the fictional town of Wind Gap, Missouri, we see the home she grew up in: A Southern Gothic monstrosity where horrible things seem to have happened to its inhabitants.
(Image credit: Anna Marie Fox/HBO)
Adora Crellin (Patricia Clarkson), her mother, is a stodgily formal woman who looks amazing in a caftan wandering around her giant home with a tumbler full of amaretto sour. Camille, on the other end of the spectrum, dresses from head to toe in gray and black—covering up a secret, revealed at the end of the pilot.
Amma, a younger half-sister to Camille, shows up later in the first episode and seems to play the part of Adora's dress-up doll, but has a secret rebellious side. Together, they walk the Victorian mansion and avoid talking too much about the untouched, museum-like room of Camille's other sister, who died years earlier. Spooky!
(Image credit: Anna Marie Fox/HBO)
What somehow makes the mansion even creepier is that a perfect replica of it exists in tiny, model form. Amma maintains a dollhouse version to exact detail, which she proudly shows Camille.
"It needs reupholstering now, Mama changed her color scheme from gold to gray," Amma tells Camille, referring to the real-life versions of updated decor in the actual mansion. (P.S., if you watch the episode, keep your eye on the dollhouse for just one example of some interesting wordplay-focused ways the show tricks our eyes.)
(Image credit: Anna Marie Fox/HBO)
Exterior shots of the Crellin mansion were shot of a home on East Ranch, a property that spans more than 1,745 acres in Redwood Valley, California. Interiors, however, were not done there.
Episodes air Sundays at 9 p.m. Eastern on HBO.
Apartment Therapy supports our readers with carefully chosen product recommendations to improve life at home. You support us through our independently chosen links, many of which earn us a commission.