A 370-Square-Foot Studio Is Uncluttered Yet Cozy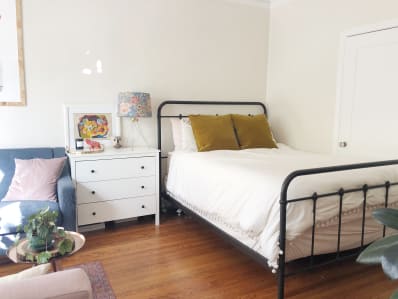 (Image credit: Naimah Jennings)
Name: Naimah Jennings, two cats: Teapot and Huey
Location: The West End — Alameda, California
Size: 370 square feet
Years lived in: 1 1/2 years, renting
This studio is the first place that I've ever lived at on my own without any roommates. I've been really happy to create a space for myself that 100 percent reflects my personality. Even though it's tiny, it's been fun to try to figure out ways to incorporate the things that I couldn't imagine living without: a bookshelf, a vanity and a desk, without overwhelming the space and feeling smothered by furniture.
(Image credit: Naimah Jennings)
I'm happy that my love of art (all that I'm able to put up without feeling cluttered), books, and color is totally apparent right when you walk in. I literally have art in every room (except for my closet) and it's been so nice to know that I've been able to create this beautiful space for myself. It's a real point of pride when people comment how my apartment makes them feel.
(Image credit: Naimah Jennings)
This is the first time that I've had plants and I've really enjoyed seeing the benefit of having them in my space and learning how to care for them. I'm grateful for the natural light that I have, even though it can be minimal at times, because I see how they thrive.
(Image credit: Naimah Jennings)
I adopted Teapot about two months after I moved in and it's also been fun to see what spaces she carves out for herself and how to make everything comfortable for her while not sacrificing aesthetics (sadly, all the cute cat towers don't have the things that she loves about hers). When my cousin told me about the kittens in her backyard, I was concerned about having two cats in my studio but it's actually worked out perfectly and they seem really happy in their home.
(Image credit: Naimah Jennings)
What is your favorite room and why? My favorite room is my only room! I love that my uni-room feels calm but has a lot of visual interest. It seems like a lot of what is trending right now is so minimal and monotone and while I find it beautiful, I couldn't imagine a life and space without color. I'm happy that I've been able to achieve a balance in my space. I also like that I've learned to embrace multi-functional furniture in the room that isn't obvious that it's serving three purposes at once. It makes me feel a little like I wasn't forced to sacrifice functionality for style. I love the way that the sun comes into the windows in the afternoon and that Teapot and Huey can sunbathe. I love that I have everything that I need in this 178-square-foot room and that it feels like enough. I've been able to create a happy space for myself without wanting more.
(Image credit: Naimah Jennings)
What's the last thing you bought (or found!) for your home? The last thing that I bought are the wishbone chairs in my dining " nook." When I first moved in, I bought these really cute blush pink metal chairs. I quickly learned that metal chairs are uncomfortable and that it's boring to always make sure that your bottoms are long enough that you aren't slapped by the cold of the metal when you first sit down. These chairs maybe aren't as fun, but they're classic AND comfortable.
(Image credit: Naimah Jennings)
Any advice for creating a home you love? My advice would be to think about what makes you feel at home. What are your essentials? What makes you happy in a space? I think working from what you love instead of a trend can make all the difference. Also, taking your time in a space to find the perfect piece. Sometimes what you think will work initially, doesn't when you actually spend time in the space. It was annoying having piles of books at the foot of my bed but it was important for me to find a shelving solution that didn't eat up precious space.
Thanks, Naimah!
• Interested in sharing your home with Apartment Therapy? Contact the editors through our House Tour & House Call Submission Form.