14 Thanksgiving Dog Instagram Posts We're Grateful For This Year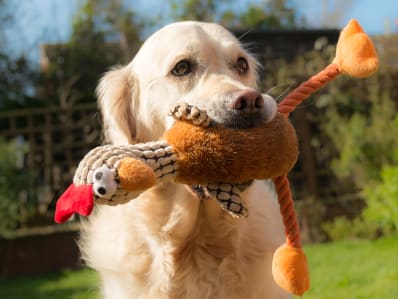 (Image credit: D K Grove/Shutterstock)
It's that time of year again when the animals steal the show, providing much-needed comic relief from holiday stress (and Uncle Billy's politics). If you missed our 14 dogs whose Thanksgiving posts were better than your seasonal greeting card, you'll especially love these dogs in turkey costumes who make us grateful to be alive—and to have Instagram as a diversion when things get a little awkward.
Rescue yourself from the anxiety or hot tempers that could prevent you from being present this holiday weekend by breathing deep, leaning in hard, and scrolling through these happy, oxytocin-boosting baes to let the stress just melt away. Because what could possibly be wrong with the world when we still have the pure gift of puppies (and other playful animal friends)?
1. This 15/10 good doggo in Hawaii who practices impulse control and being the center of attention by balancing pumpkin pies. So much pure talent in one post, @ThingsOnKobe.
2. This pint-sized muppet @MitzeeBitsy who decided to drown out your bickering with drumsticks. (Not a bad plan.)
3. These good deed pet therapy doggos @BaileyDoodle who let Great Grandma dress them up as much as she pleased, because respect your elders.
4. This floof @ApolloTheAuss who couldn't decide if he wanted to save room for dessert or if Thanksgiving was All About That Baste.
5. This wise elder statesman @NicoDoggerton who's had Thanksgiving dinner on his mind for weeks, and we can relate.
6. Winston of the @IggyBrothers who is everyone, everywhere, waiting patiently in the living room for the Thanksgiving meal to be ready already while smelling all the smells. Derp drool on point.
7. This petite little pug @SpikeAndZira who's just in it for all the sides and doesn't care if you think all things pumpkin spice are basic. Deal with it.
8. This retired racing greyhound from #TalesAndTails who swears she really is just in the kitchen to help you with the turducken.
9. This rescued turkey and rescued Korean pupper @Abbie.Loves.Minnow who are both just so grateful to have been pardoned.
10. These best buds at @BarkBox who know there's plenty to go around for everyone if we would just work together toward world peas (and carrots).
11. This pumpkin retriever @StarskyTheGoldie who is here for your last-minute farmer's market runs and EHRMAGOURD.
12. This little turkey from Canine Assisted Therapy @catdogsinc who wants to remind you what NOT to feed your pets this holiday to avoid a trip to the emergency vet.
13. This fluffernugget @MooseTheGoldenRetriever who is still wrestling with whether or not turkeys are friends or food.
14. Last, but certainly not least: these fall faces over at @HarlowAndSage, because they "be-leaf" you can get through the holidays with a smile.