The Best Thanksgiving Movies You Can Stream Right Now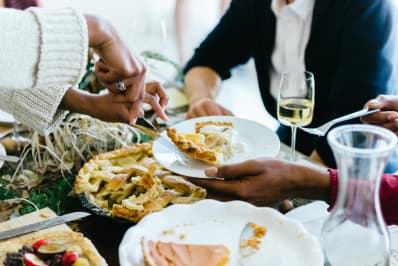 (Image credit: Jen Grantham/Stocksy)
It's Thanksgiving week, and whether you're traveling to see loved ones or staying in for a Friendsgiving, you're going to want to have a list of streaming, holiday-themed movies in your back pocket in case you need them. Everyone knows there are a million December holiday-centric options, but, much like how there aren't any Thanksgiving songs, Turkey Day movies are a little harder to come by. Still, there are some options currently available on Netflix, Hulu, and Amazon Prime to get you by.
Netflix
While there are currently a million Christmas romantic comedies currently streaming on Netflix, including some pretty great 2018 ones like The Holiday Calendar and The Princess Switch, we're still waiting on that Thanksgiving-themed Netflix original. However, they do have "A Holiday Engagement," a 2011 rom com starring Bonnie Somerville, who plays a jilted woman who hires a hot actor to pretend to be her fiancé at Thanksgiving dinner. The cheese factor is high with this one, but it does mostly center around Thanksgiving week.
Hulu
"Pieces of April" is a 2003 indie film, or at least as much of an indie film as it can be with Katie Holmes as its lead. You guys, this movie is so good and underrated and we are all lucky it's available on Hulu. Holmes plays a woman who hosts Thanksgiving for her dysfunctional family in a tiny NYC apartment and it will feel SO REAL when you see how hard that is to pull off. Go watch it.
For a different route via Hulu, there's also "Drinksgiving," a party comedy starring Pamela Mitchell as Sarah, a recently-graduated woman who wants to host a shindig to show off how great she's doing (spoiler alert: She's not).
Amazon
The 1995 classic "Home for the Holidays," starring Holly Hunter, is on Amazon. I watched it for the first time last Thanksgiving, and it's a classic for a reason. In fact, if you're having a bad week, this is where you should start. Directed by Jodie Foster, it features Anne Bancroft, Robert Downey Jr., Dylan McDermott and more.
If corny slasher flicks are more your speed this holiday season, "Thankskilling" is where it's at. It's about an evil turkey who terrorizes a handful of college students on a camping trip in November. The trailer looks ridiculous, and somehow a sequel was made.
If you're willing to pony up some cash, you can rent the great Thanksgiving movie "Planes, Trains and Automobiles" on Amazon for $3.99.
Of course, once you've settled down with pumpkin pie, all holiday movies are officially fair game. If that's your vibe, check out our Christmas flicks roundup.
Enjoy time with people you like with these movies, and have a great Thanksgiving!
Apartment Therapy supports our readers with carefully chosen product recommendations to improve life at home. You support us through our independently chosen links, many of which earn us a commission.