8 Things I Wish I Knew Before Buying a Tiny Home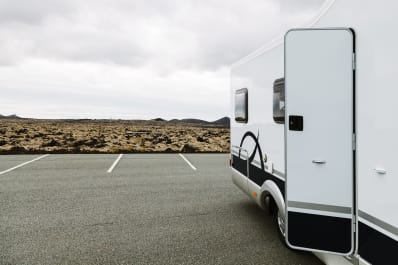 (Image credit: VICTOR TORRES/Stocksy)
My husband, our two kids, our pup, and I had a lot of adjusting to do when we scaled down from a 2000-square-foot, two-story home, to a 300-square-foot gooseneck trailer. After a year of researching, we felt prepared to purge our stuff and find a tiny house for our family, but there was a lot that we had to get used to that we didn't expect. While I don't regret downsizing at all—in fact, I love it!- these are the eight things I wish I'd known before my family and I said yes to tiny living:
1. Your bathroom life will never be the same.
When we lived in our previous 2,200 square feet, our three and a half baths offered enough room to support impromptu dance parties before my shower if I wanted them. I knew a bathroom in a tiny home would be, well, tiny—but I thought I had some luxury with not one but one and a half bathrooms in our trailer (with a toddler in potty training and a young son, I didn't want them using our bathroom if I could help it).
But I soon found out, it doesn't matter what type of toilet you choose or if you decide to upgrade to a tiny with more than one commode, tiny living bathrooms just aren't what you're used to. I wish I'd known how big of a deal it was going to be to plan draining the damage (there's no more just flush it and forget it!). I also wish I'd known that no matter how "big" you build the bathroom, you're still going to have to maneuver like a stuntwoman to close the door.
2. You're actually going to get more quiet and alone time than you'd think.
Privacy was a main concern when we were going tiny. When we rented tiny homes before taking the plunge, we learned that aesthetically-pleasing features like loft bedrooms and sliding barn doors didn't mask light or sound like we needed. We also realized, as a happily married couple, we'd need "mommy-daddy" time and that would require separation from our kids. So, we made sure to have a separate master bedroom on the opposite end from our kids' bunk room.
Though our place is only 300 square feet, I actually feel like it offers more alone time than my previous two-story home. Our tiny-house master bedroom is farther from our kids' room than before, and our bedroom door blocks the noise so much better, too! It's a perfectly serene environment to decompress.
I also have so much more free time after going tiny. I can now clean our entire home in 45 minutes, so there's ample time to read in the hammock or take a long bike ride. My husband and I are finding that we have more quality time to spend other, too, which is quite the unexpected perk!
3. You'll hang outside a lot.
Before we had kids, my husband and I spent so much time outside hiking, climbing, and biking. But we found the creature comforts of our two-story home drew us indoors, where the kids would spend their time playing in playrooms or watching screens. So while I was excited to spend more time outside, I didn't realize we'd be outside every day in all types of weather. Come rain or snow, wind or sunshine, my kids and I are outside jumping in puddles, sledding on snow hills, or biking for hours on the bike path near where we're currently parked.
4. You have to plan a lot.
Our first winter living tiny, we decided to park in Ohio. It ended up being the worst winter on record there since the 1800s. That meant that our family saw a lot of each other for about four months… maybe too much! We survived and are better for it, but we will definitely plan better next winter. I wish someone had told me tiny living winters are challenging and to park somewhere more temperate during the winter months.
There are also reams of legal red tape that goes with where to park our home. Some campgrounds, national parks, or other locales are RV-friendly but won't accept tiny homes for this reason.
5. There will be a lot of unexpected expenses.
We are able to be a one-income family who "roadschools" our kids and take hilarious adventures because we no longer have a mortgage and an endless to-do list of things that need upgraded or fixed. But even with this freedom, there are some costly expenses we didn't expect. We found we needed a larger truck to tow the tiny home. After we took the house on the road for the first time, our home and car both needed repairs. We also didn't realize how much more expensive diesel fuel was going to be.
I wish someone had told us that we would have to return to our parking spot for a few unscripted weeks every once and a while to save up money before hitting the road again. We've even had tiny house friends lose their homes over the issue of insuring their tiny or paying taxes for where they are parked.
6. Traveling takes a lot longer than you think.
Surprise: Hauling a tiny home can almost double the time the average road trip takes—something my husband and I didn't expect. We've have had to go out of our way to find a gas station large enough for our rig. It also takes more time to maneuver everything on the highway.
7. Purging takes forever and becomes its own lifestyle.
Before going tiny, we purged our belongings several times over. We trashed things, sold things, and gave away more things than I could count. When we were finally ready for the move, we had rid ourselves of over 80 percent of our belongings. This took us a lot longer than either my husband or I had expected—over a full year.
I thought once we made the move, our purging days would be over. But here we are, a year after going tiny, still purging every six weeks because where there are kids and Target dollar bins, there will be an accumulation of "stuff." We try to keep about 50 items per person, per season, and the rule in our house remains that when a new item comes in, an old must go out.
8. People will stop to ask you about it all the time.
Before going tiny, I didn't realize that people would make my home their business. Whether I'm at the gas pump or in a parking lot, people want to talk to me about my tiny home. Sometimes they're kind and are just fascinated. Others will throw judgmental comments and glances. It's definitely an adjustment!