4 Last-Minute Ways To Get Out the Vote Today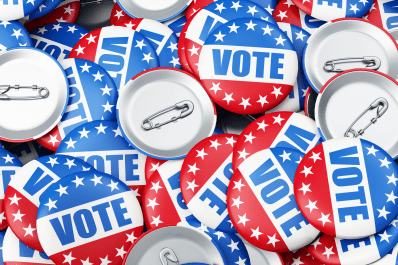 (Image credit: 3dfoto/Shutterstock)
Tuesday is Election Day in the United States. And while the mid-terms historically have lower turnout than presidential years, every election has a huge effect on your state, city, and even your neighborhood.
The first step is knowing what's on your ballot. Not sure what all the questions, referenda, and local races are? You can get a sample ballot from Vote411.org, a nonpartisan group run by the League of Women Voters. Checking out your ballot ahead of time lets you do some research and print out a cheat sheet, so you can go into the voting booth with a solid plan. After you do that (and mark your own ballot), check out four more ways to help get out the vote today.
Help friends find their polling places (Instagram can assist!)
There are plenty of traditional ways to check where your polling location is—your state's website, for example—but Instagram is making it super easy with a "We Voted" sticker. Tap on the We Voted icon in your Story stream, and all your friends who've added the sticker to their Instagram Stories will be shown. Tap on the sticker, and it'll take you to gettothepolls.com, where you can enter your address to find your voting place (or you can use the link above).
Pass along free or discounted rides to the polls
No car? No problem. Lyft is offering 50 percent off codes to polling places, and free rides to underserved communities where transportation is a barrier to voter participation, according to a company blog post. Similarly, Uber is giving you $10 off your ride with promo code VOTE2018.
Report trouble voting
ProPublica is partnering with newsrooms across the country to track any issues at polling locations. It's easy to report—you can text VOTE or VOTA for Spanish to 81380 to log any problems from long lines to ADA access violations.
Text a friend (or three) asking for their voting plan
You have more influence over your friends and family than any celebrity or political ad. Ask your pals if they've got a plan for voting, and offer a hand if they need one. Plus, if they live in any of the following 18 states plus DC, they don't have to have already registered—they can go and vote today.
Here are the states with same-day voter registration:
California
Colorado
Connecticut
District of Columbia
Hawaii
Idaho
Illinois
Iowa
Maine
Minnesota
Montana
New Hampshire
North Carolina
Utah
Vermont
Washington
Wisconsin
Wyoming